About Rangoli >> Psychological treatment
About Rangoli >> Psychological treatment
Psychological treatment
Work pressure, tension and angry are more than enough to collapse a human psychologically worse and may lead to mentally disorder permanently.  Work pressure, tension and angry had been associated with human being since thousands of years. Our ancestors were following lot methods to reduce it.
In Hindu religion all religious activities from prayer to cemetery rituals have the scientific truth behind it. What would you feel after return from a Hindu temple? You would feel good and your tension and pressure would be reduced to a greater extent. Do you know why? The temple structure, statues and rhythmic prayers of others sooth the mind and set you free and comfortable. The same way Rangoli does. Rangoli acts as a natural psychological healer when anyone takes a look at it regularly.
The design and color of the Rangoli play around one's mind and naturally make anyone calm and silent. So have Rangoli in front of your home and have a fun.
Take a look at the following design for a minute. Then let me know your feedback. You are really happy, aren't you?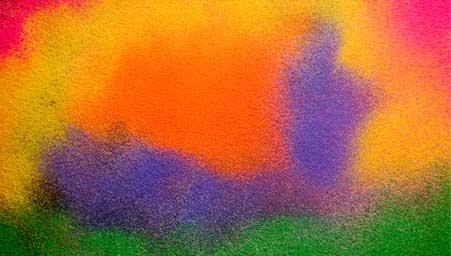 Rangoli by Categories